A) PRODUCT DESCRIPTION :
Material handling has become one of the most important as well as critical part of overcoming the problem of excess manpower as well as for reducing unessential Man effort. Our offering relates both Powerized Modular Belt conveyer as well as Idler Roller Belt conveyers for various purposes of material handling. Our conveyers are best suitable for highly chemical effected areas with our special corrosive resistant SS316L and PP Conveyer.
B) SALIENT FEATURES
High resistance to Corrosion
Fully Automated Powerized Modular belt conveyers
VFD for controlling Conveyer speed
German make PP Belts for high strength and durability
Photoelectric sensors to automatically stop the conveyer to avoid
Design considering Visual and safety aspects
Radial conveyers for required curves
Idler PVC+UHMWPE Roller conveyer with SS316L Shaft and Bearing
Specialized in PP Conveyers which introduces same strength and much great chemical resistant properties as compare to SS316L
C) TECHNICAL SPECIFICATIONS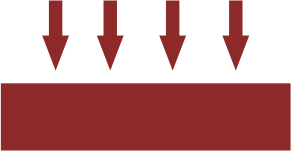 1. Load Capacity: 200 Kg/Min
     2. Speed: 18 Meter/Min
        3. Size of Conveyer: Length: Up to 12 Meters Width: 300-750 mm Height: Up to 700 mm

     4. Roller Type: SS316 L/PP/PVC+UHMWPE Bush
        5. MOC of Conveyer Frame: SS316L/PP

     6. Conveyer Type: Modular Straight, Modular Radial, Idler Straight, Idler Radial
D) APPLICATIONS :
Wide range of application includes
Battery Industry
Pharmaceuticals
Wire making
Bottle Making etc.